About Hakka:Hakka (Chinese: 客家話/客家话; pinyin: Kèjiāhuà, Chinese: 客語/客语; pinyin: Kèyǔ, Hak-kâ-va) forms a language group of varieties of Chinese, spoken natively by the Hakka people throughout Southern China and Taiwan and throughout the diaspora areas of East Asia, Southeast Asia and in overseas Chinese communities around the world.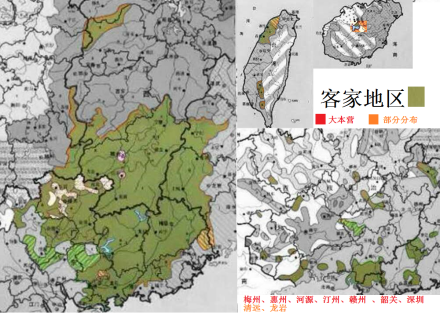 2.Have you eaten?
你吃饭了吗?
nǐ shìd fōn miǎng?
3.What time is it now?
现在几多点咧?
yàn zòi gì dō diàm liē.
4.What is your name?
你叫做什么名字?
nǐ ōn zuo mǎ miǎng?
5. My name is David.
𠊎叫大卫。
ngai tai wui
7.You are welcome.
不用谢。
mo su qie。
8. Where is the bathroom?
洗手间在哪里?
sai xiu gan coi nang?
9. Nice to meet you.
很高兴见到你。
ho go hing gian do ni。
10. Turn left and then turn right.
先左转然后往右转。
xian zuo zhuan yan hou yiu zhuan。
11. What would you like to drink?
你想喝点什么?
ni xiang yin d ma ya?
12. I want like a cup of coffee.
𠊎想要一杯咖啡。
ai oi yi bui ka fui。
13.He is my older brother.
他是𠊎大佬。
ki hai ai tai lo。
14. She is my younger sister.
她是𠊎老妹。
ki hai ai lo moi。
15. They are my friends.
他们是𠊎的朋友。
ki ti hai ai pang yiu。
16. Today, we are going to see a movie.
今天𠊎地打算去看电影。
gin ni ai ti ta suan hi tian yang。
17. Yesterday, I went to the library to study English.
昨天𠊎去图书馆学习英语。
coi yi ai hi tu su guan ho yin yi。
18. Tomorrow, it will rain.
明天会下雨。
min yi wui lo shui。
19. I like to walk in the park.
𠊎喜欢在公园里散步。
ai zhong yi coi gong yan san pu。
20. What is your favorite color?
你最喜欢的颜色是什么?
ni zoi zhong yi ga an sa hi ma?
21. My favorite color is red.
𠊎最喜欢的颜色是红色。
ai zhong yi an sa hi hong sa.
22.We are good friends, and we are also co-workers.
𠊎地系同事,也系朋友。
ngái ti2 hai4 hai tung2 su4,ya1 hai4 pen2 yiu1.
23.I would like to order fried rice.
𠊎想点炒饭。
ngái siong3 diam3 cau3 fan4。
24.Excuse me, may I have the check please.
莫好意思,唔该比支票𠊎。
mo2 ho4 yi4 su1,mo4 goi1 bi3 zi1 piau4 ngái。
25.Where are you from?
你才边处嘅?
ni2 coi2 bien1 cu4 ge?
26.I am from Beijing, but my wife is from Hong Kong.
𠊎系北京人,但系𠊎老婆系香港人。
ngái hi4 bak4 gin1 ngin2,tan4 hi4 ngái lo4 po2 hi4 hiong1 gong3 ngin2。
27.Do you have any children?
你有仔莫?
ni2 yiu1 zai3 mo?
28.I have a son and a daughter
𠊎有一个弄仔捞一个妹仔。
ngái yiu1 yit5 go4 nong4 zai3 lo1 yit5 go4 moi4 zai3。
29.How old are your children?
你仔几大咧?
ni2 zai3 gi3 tai4 lie1?
30.My son is 11, and my daughter is 14.
𠊎弄仔11岁,妹仔14岁。
ngái nong4 zai3 11 soi4,moi4 zai3 14 soi4。
31.What time do they have to go to school?
其地几点艾去学校?
ki2 ti2 oi4 gi3 diam3 hi4 hok3 hau1?
32.They both have to be at school at nine in the morning.
其地艾九点到学校。
ki2 ti2 oi4 giu3 diam3 do4 hok3 hau1。
33.I'm looking for a good English teacher.
𠊎才搵一个好英语老师。
ngái coi2 wun4 yit5 go4 hau3 yin1 ngi1 lo4 su1。
34.What a coincidence! I am an English teacher.
改啱嘅!𠊎系英语老师咯。
gai3 ngāam ge!ngái haih yin1 ngi1 lo4 su1 lo1。
35.Have you ever been to Japan?
你去过日本莫?
ni3 hi4 go4 ngit5 bun3 mok3?
36.I have never been to Japan, but I have traveled to Europe.
𠊎莫去过日本,但系𠊎去过欧洲旅游。
ngái mo2 hi4 go4 ngit5 bun3,tan4 he4 ngái hi4 go4 iu1 ziu1 li3 yiu2。
37.How much is it to buy a cell phone?
抵部手机艾几多钱?
di3 pu4 siu3 gi1 oi1 gi3 do1 cien2?
38.The price is 1000 dollars。
价格系1000美元。
ga4 gak5 hi4 1000 mui1 yan2。
39.What is his job?
其系做嘛工嘅 ?
ki2 hi4 zo4 ma2 gung1 ge?
40.He is a policeman.
其系警察。
ki2 hi4 gin3 cat5。
41.It's raining today.
今日落水。
gim1 ngit5 lok6 sui4。
42.What are you doing?
你做嘛盖?
ni3 zo4 ma2 gai4?
(The recordings are provided by a 20-year-old-man from Yangchun,Yangjiang,Guangdong Province)